Budapest Central European Fashion Week will be taking place at new locations in November
---
Hungarian Fashion & Deisgn Agency will be organising the prestigious Budapest Central European Fashion Week, between 4-10 November. This year, fashion shows will take place in two locations: International fashion shows and Young Talents Show will be held on Friday, 8 November at Tesla, and the collections of Hungarian designers will be shown at Bálna Budapest on Saturday and Sunday.
The event, showcasing Spring-Summer 2020 collections, will also be home to the debut of collections from various international fashion designers, including Jean Gritsfeld (UA), Patrick Mcdowell (UK) and Gilberto Calzolari (I). During the event, many well-known industry professionals will be visiting Budapest and viewing the collections, such as Aureta, who has a following base of over half a million on Instagram, and Irene Colzi. Throughout the three- day event, fashion industry professionals will also be in Hungary from Vogue Italia, Vanity Fair and the new wave Kunst Magazin. Diet Prada, the duo behind the anonymous account, Kristen Bateman, journalist for Dazed and Confused and Cut Magazine; and fashion blogger Daniella Bernstein, who has over 2.2 million followers will also be in attendance. Besides the fashion shows, the organisers are also preparing with further exciting events, including a fashion industry summit to be held on 7 November.
Throughout the week, Hungarian brands will also be organising a total of 25 side events, including eco-conscious roundtable discussions, conferences, and jewellery workshop. One of the Agency's main aims – for Budapest to be interwoven with fashion related events during BCEFW – will be realised. For the first time, the Agency will also be organising BCEFW official side event, Budapest Fashion & Tech Summit. The fashion industry conference will be held at MOME Master on 7 November, where top tier industry professionals will be holding talks on the relationship between fashion and technology. Speakers include English fashion designer and journalist Henry Holland, who previously worked at various fashion magazines, and in 2008 founded his own brand, House of Holland. In the past 10 years Holland has collaborated with brands such as Levi Strauss & Co, Umbro, Primark and Magnum. Thanks to the invited world-famous speakers, attendees will be informed on questions regarding fashion industry firsthand, such as sustainability, digitalization and innovative solutions.
One of the main goals of the organisers is for Budapest to become an active member within the circulation of the fashion industry, and while doing so, strengthening international relations, for Budapest to become the regional center for fashion and sustainability.
"This year will be the fourth time we've organised BCEFW, and I can proudly say that our work has become easier, as each year more and more people hear about our fashion event and this interest growth can also be shown in numbers. In 2019, double the amount of international influencers will be attending BCEFW compared to last year, with many influencers getting in touch with HFDA themselves, and our press registration numbers have also doubled. This year, numerous Hungarian and international designers will be showcasing their collections. Our visitor numbers are also continously growing: there were over five thousand visitors at our last fashion week, compares to previous years where we had two-three thousand guests. We are proud to say that many people are interested and await this event, and thanks to BCEFW everyone who counts will be present from the industry, including buyers and showroom owners. Our goal is for Hungary to be the region's centre for fashion." – stated Zsófia Bata-Jakab , CEO of Hungarian Fashion and Design Industry.
For further information on the event and programme schedules, please visit our website: https://bcefw.com/
The Hungarian Fashion & Design Agency (HFDA) is a non-profit organisation established by the Hungarian Tourism Board as a subsidiary of the Hungarian Tourism Agency, with three main sectors: the Fashion Industry, Design Industry and the Fashion & Design Hub. The aim of the Agency is to support, strengthen and ultimately elevate the Hungarian Fashion and Design Industry, while ensuring visibility and commercial success on a global scale, and by doing so, strengthening the country's image and creating new workplaces. The Agency's mission is to lead the industry through its creative influence and to showcase the best of Hungarian fashion and design, and to unlock its potential and power from emerging to established labels. Further important tasks of the Agency include increasing export growth, the strengthening and development of domestic production, and safeguarding and supporting trades with traditional, creative and specific knowledge. As an integrative organisation, a main goal of the Agency is to achieve effective professional coordination between domestic and international players of the fashion and design field, which is essential for long-term success.
More articles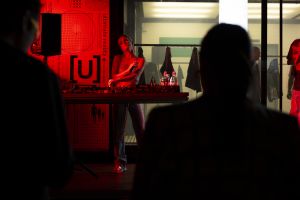 BCEFW will return at the end of January – Applications for side events are now open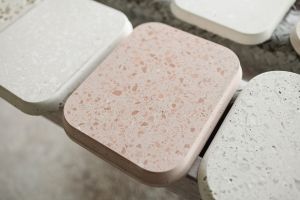 Creative collaborations have started in the Hungarian design LAB curated by Rossana Orlandi program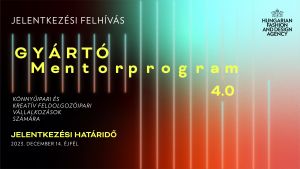 Manufacturers Mentoring Program 4.0